IPVanish

IPVanish is one of the fastest VPN services available, allows P2P for torrenting, and employs very strong encryption to stop anyone invading your online privacy.
Despite being based in the USA, which many privacy advocates would turn their noses up at the thought of, IPVanish offer great security including a strict no logs policy, shared IPs, and high end encryption.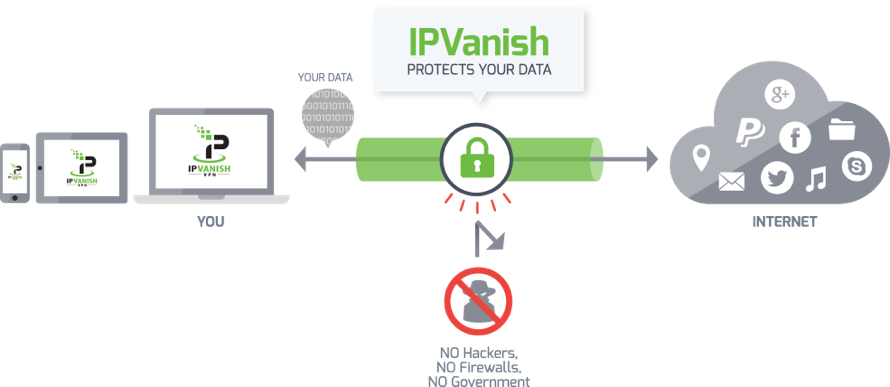 IPVanish pricing and packages
IPVanish has one service that covers all its features. It is available at three prices depending on how long you sign up for. One month costs $10, three months is $26.99 ($8.99/ month), and a year is $77.99 ($6.49/ month).
There's a multitude of payment options such as VISA, Mastercard, American Express, and Paypal, as well as BitCoin for those with higher security concerns. There is also a seven day refund period.
IPVanish security, logging, and encryption
IPVanish offers a number of VPN protocols. Most importantly - OpenVPN - which is the one we recommend using whenever possible. IPVanish OpenVPN uses 356-bit encryption, with SHA-256 for authentication and an RSA-2048 handshake.
As already mentioned, they also keep zero logs and use shared IPs, making it extremely difficult (almost impossible) to track a specific user.
server locations
IPVanish has over 700 servers in more than 60 countries, which means you can connect to just about anywhere you want to and make it seem as though you're in that location.
You can access the US Netflix catalogue, for example, from China, or BBC iPlayer from Australia, and the speed of IPVanish's servers make streaming hd content painless.
P2P/Torrenting and shared IPs
P2p / torrenting is allowed on IPVanish, although they do request that you respect the laws of the country you are in. Since they use strong encryption and shared IPs, there's very little chance of getting caught if you want to download all of Better Call Saul for a t.v. binge.
Setting up IPVanish on a Sabai Router
Navigate to www.IPVanish.com.
Click My Account
Enter your IPVanish username and password to Login
OpenVPN Config files are under Server List - All OS
A zip file will download.
Please extract this file to a location you can find later.
Return to the router control panel at 192.168.199.1 in your web browser.
Click on the Network link.
Click on the OpenVPN link.
Configuring Your Sabai VPN Router
Click the Choose File button.
Find the files that you extracted.
Choose the VPN location you want to use.
Click Open
Click "Choose File" and find the file called ca.ipvanish.com.crt in the folder you extracted.
Click upload.
Click show file.
Click edit. Enter your account username and password.
Click Done then Save.
Click Start to begin the VPN Service.
Congrats!
Your basic OpenVPN setup is complete.
Gateways
Gateways are an exclusive feature of Sabai OS, that allow you to use a single router to simultaneously connect to a VPN and a local internet connection. See our setup guide to learn how.