Le VPN
Le VPN
Sabai Technology has partnered with Le VPN, a top-tier VPN service provider founded in France in 2010 and operating globally, currently serving users in 5 European languages all over the world.
Le VPN offers one of the largest VPN servers networks of 700+ servers in 110+ countries. The list of all available locations can be found on their VPN servers page. They are a global supporter of Internet freedom and equality, fighting Internet censorship and geo-location limitations, whether that may be media streaming, data transfer, social media, VOIP or access to censored websites.
Le VPN's mission is to provide the maximum security of the Internet connection of its users, and enabling Le VPN on a router level is the best security solution for your home and office. Le VPN service uses sophisticated encryption algorithms and 3 major security protocols: OpenVPN, PPTP and L2TP/IPSec, to guarantee the maximum security of your Internet connection. Using Le VPN on your router means securing the Internet connection of all your devices at once, as they will connect to the WiFi of your router that is encrypted and secure.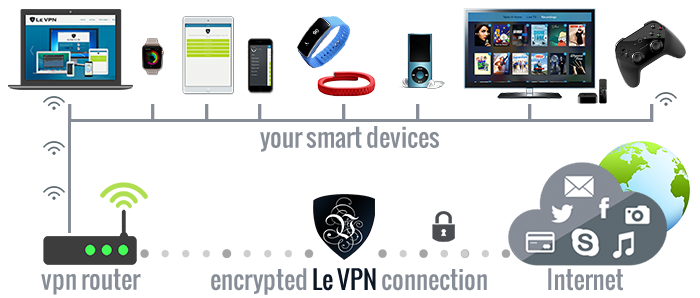 Another advantage of using Le VPN on your router is protecting an unlimited number of smart devices at once, vs. the two simultaneous connections allowed when using Le VPN on a device level. All Le VPN plans include unlimited bandwidth and unlimited number of servers switches, so you can connect to as many countries as you want and as often as you wish.
To guarantee the maximum speed of your Internet connection, especially during online streaming, Le VPN offers a SmartDNS service and also a HybridVPN. HybridVPN is a unique service developed by Le VPN, and it is a mix between an encrypted VPN connection and a SmartDNS, with a big number of unblocked media websites in the US, UK and France, that stream without encryption for maximum speeds.
Le VPN takes data protection and online privacy very seriously by assuring a no log policy and by not requiring any personal information from their subscribers besides an email, which is required to receive the activation codes. Besides all the standard payment methods like credit cards and PayPal, they also offer anonymous payment options like Bitcoin and gift cards, for those who require maximum privacy.
Le VPN is compatible with Windows, Mac, Linux, iOS, Android and other smart devices, as well as with all the VPN routers powered by Sabai Technology.
To subscribe to Le VPN and to use it on your Sabai router pick one of the 3 plans from 1 month to 1 year, that include all the features, a 24/7 support in English, Spanish or French, and a 7-day money back guarantee:
1 month: $9.95 | $9.95/month
6 months: $44.99 | $7.50/month
1 year: $59.40 | $4.95/month