VPN (virtual private network) has a lot to offer in terms of online privacy and it is important for both consumer and enterprise security. VPN is also used by people all over the world to access restricted or blocked content. So, how do you keep children safe with a VPN while also preventing them from accessing restricted and adult content? Typically, you'd set up parental controls and adult-content filters, but then you'd also need to continually monitor and update your database of blacklisted or blocked websites. According to SafeLabs VPN, there is an easier way.
SafeLabs, founded by Syed Hashmi, is doing pioneering research on how VPN technology can be used to effectively achieve online safety for children. In 2000, the federal government passed CIPA (Children's Internet Protection Act) which requires all K-12 schools and libraries to take effective measures to protect children while they are online. It appeared to Syed there were little to no other products taking care of this market using VPN. Common solutions require expensive hardware and service contracts, require frequent upgrades, are cumbersome to set up for the average user, and often required a team of IT professionals to monitor and maintain. SafeLabs VPN offers a solution for child online safety that is hassle-free and affordable.
Using SafeLabs, your internet traffic is diverted through an encrypted tunnel to their VPN servers. Their servers automatically block millions of websites that are inappropriate and unsafe for children. Additionally, when using popular websites like Google, YouTube or Bing, they enforce "safe search" to only serve filtered results. In the event that safe search is manually disabled or circumvented, SafeLabs continues to block access to blacklisted content even if it appears in search results. According to Syed, the total number of adult-content websites grows by approximately 200 sites a day. SafeLabs reports these sites are promptly blocked within 24 hours of surfacing to ensuring it maintains safe web browsing for all its users.
Another advantage to using a VPN is hiding your IP address which is critical to protecting children's privacy when they are online. An IP address is a unique set of numbers, separated by decimals, that identifies each device that accesses the internet. You can think of an IP address like a mailing address for your device. All of your online activity is linked to one and, just like your home address, you can find things out about someone based on their IP address including their location. You would never tell a stranger your home address or give them a list of your daily activities. Likewise, you wouldn't want prying eyes and hackers seeing your child's online activity or knowing their location. When using a VPN your IP address is masked, keeping your location anonymous. This feature is SafeLab VPN's differentiating factor and is missing with other technology currently being used for child-safe internet like on-premise firewalls or parental control software installed on devices.
SafeLabs VPN is not just for institutional users like schools and libraries. It is a great addition for all households with children who share a concern for their children's online safety. Hence their tagline "SafeLabs VPN must be connected when children get online". The best way to ensure all of your devices are safe is to use SafeLabsVPN OpenVPN on a Sabai OS VPN Router. To learn more about SafeLabs VPN or to sign up for their service click here.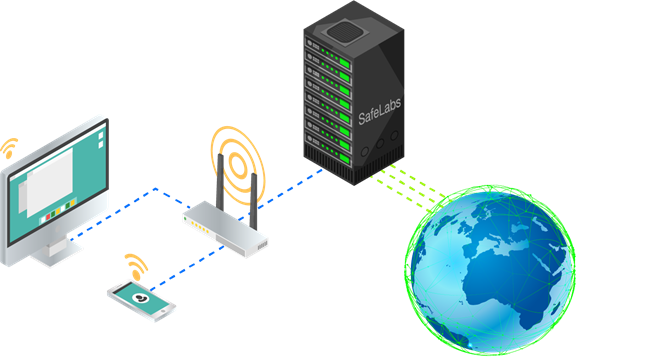 Recent Posts
Internet speed is one of the most sought after elements of the VPN community. There are many ways …

In many situations, once a Wireless router has been purchased and installed, we look for a hidden o …

Briefly, WireGuard is a new type of VPN protocol designed from the ground up for performance …